About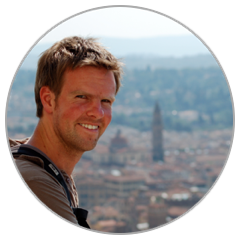 I am a software developer living in 's-Hertogenbosch, The Netherlands. I write software for fun and for a living.
The first computer program I wrote as a kid on my uncle's Philips Videopac G7000. You couldn't save your work, so I unfortunately do not have any proof of that.
I also did some Basic on my dad's first 8086 IBM PC clone, but it was on the 486 that replaced it when I built my first big software project: a music tracker for the AdLib soundcard. I spent over two years to write FM Tracker in 386 assembly language because both Basic and Pascal turned out to be too slow.
I've never stopped programming ever since.
In high school I wrote a children's music game using my OPL2 engine. Two of my best friends did art and music, together we had a lot of fun during our summer break at the local software distributor in the little town of Wijchen where I was born. Our game shipped on a 1.4Mb floppy disk.
During and after getting my MSc in Computer Science, I set up a R&D department in Eindhoven, a spin-off from an Amsterdam based company, where we designed and developed Delphi software components such as a collections framework, an i18n framework, and an API documentation tool.
Before moving on to ASML I started off in the EDA business at Sagantec, where I lead the chip layout pattern recognition team. I am currently employed at ASML where I continue to write software to keep Moore's Law alive.
In my spare time I work on my Remote Control for Kodi and XBMC app for iPhone and iPad.
You can contact me at mail@gertjanzwartjes.com and on twitter through @gertjanzwartjes. Take a look at my resume to see a full record of what I've been up to until now.
Disclaimer: all the posts on this site are my own and do not represent my current or any of my previous employer's positions, strategies, or opinions.